Mountain bike adventure tours
What makes Western Mongolia a great Biking Destination?
Tavan Bogd National Park has some of the most stunning scenery in all of Mongolia with towering snow-­‐capped mountains, glaciers, deep lush valleys and large lakes. The flora and fauna leave nothing to be desired, being home to argali sheep, beech marten, ibex, red deer, black vulture, elk, snow leopards, Altai snowcock, golden eagles and many others.
The people living in the park are either Tuvan or Kazakh nomadic herders and visiting them and going to their festivals is one of the highlights of our trips. The Kazakhs have all retained their traditional culture to a greater degree than probably any Kazakh in Central Asia. They have preserved their arts and music and practice the ancient sport of hunting with eagles.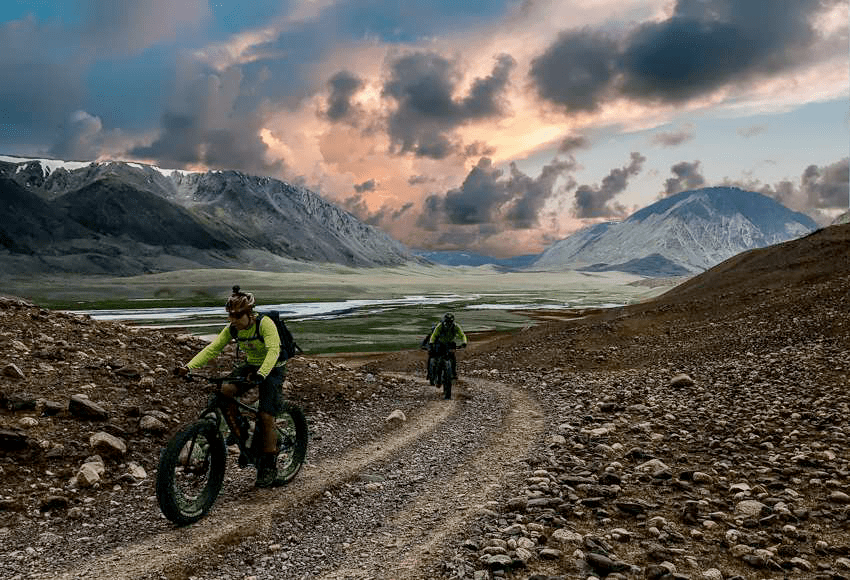 We plan our tours around the summer months when the weather is at its best and the nomads plan their weddings, wrestling competitions, Naadams, horse training and racing.
Our objective is to offer an experience like no other, at a leisurely pace riding a fatbike which takes you safely to places you would find it hard to get to or terrain you wouldn´t be able to cross on a normal mountain bike.
Small groups
We only take a maximum of 10 guests on our biking adventures respecting the environment we travel in, respecting the families we visit and producing the least impact. Less people, better service, more fun
Quality and Excellence
Between our Kazakh partner, Agii Makshum from Bayan-­Olgii, Kirsten from the US and Nacho from Spain, our aim is to share the experience we´ve gathered over the years with other like-minded travelers. We strive to bring our guests closer to the countryside, closer to the culture and closer to the people. Our equipment is excellent and our itineraries are carefully designed to mix active travel with a rich cultural experience.
All Abilities
Our itineraries are designed so that there is always a back-­up vehicle close‐by. You don´t have to be an avid cyclist or super‐fit to enjoy our trips. You do need to come equipped with a good sense of adventure as plans can change quickly due to weather or impromptu festivals we discover en‐route.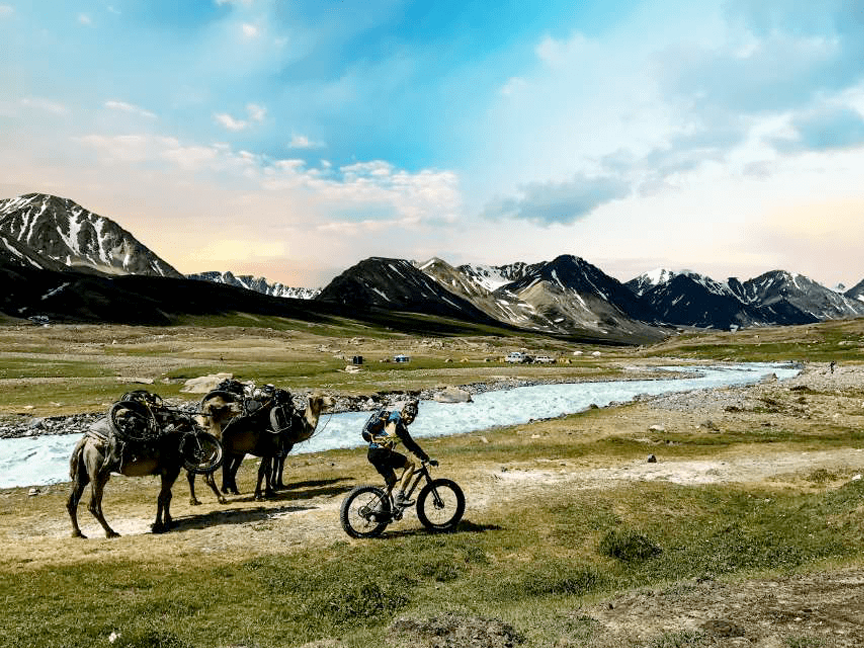 Experience your own adventure
This is the moment you were waiting for. Come with us on a trip that will change you forever